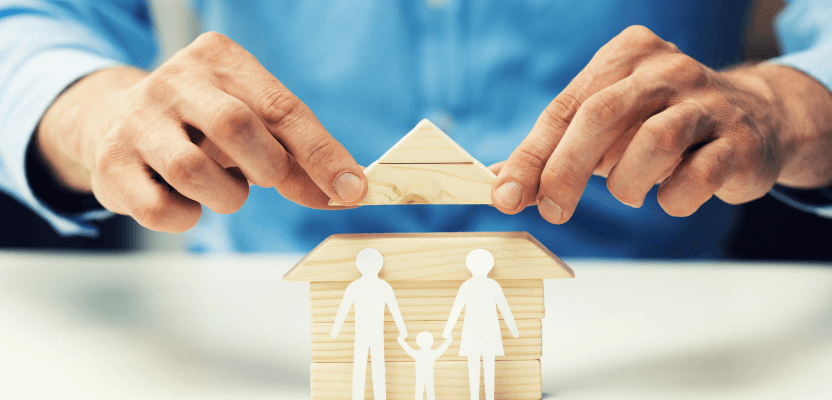 Part Three: Homebuyer's Guide to Condition, Specification, Space & Layout
Once you have narrowed down the type of property you'd like and the attributes of its location, you can start looking at the details of particular properties that meet these criteria.
i. What condition is the home in?
Any property you purchase should be surveyed for a professional assessment of its condition. The most thorough type of survey is known today as a Building Survey (it was formerly called a Full Structural Survey). This is highly recommended for properties constructed before about 1960, and practically essential for properties from the 1920s and earlier. For more modern properties that appear to be in good condition, a cheaper Home Buyer's Report may suffice unless the property is built on an area prone to subsidence.
The building survey will include an assessment of any structural problems that may need attention, including signs of subsidence, signs of wall tie fatigue (applicable to properties built with cavity wall construction only), problems with the condition of brickwork, mortar and stonework, any problems with the condition of the roof, and any signs of damp.
Where damp is concerned, the building survey will seek to identify its causes and suggest remedies, or recommend further investigation by a damp-proofing specialist.
A building surveyor will also look for signs of rotten or woodworm-infested timbers that need treating, and may recommend further specialist investigation of the condition of timbers hidden by carpets if springy floors are noted or if woodworm has been spotted elsewhere in the house.
A typical building survey will also call attention to the condition of the central heating system, the water supply, the drains, and the electricity supply system. If the central heating system appears to be old and inefficient, a building surveyor is likely to recommend its replacement with one centred upon a new condensing combi boiler. If the electrical fittings are very old or the consumer unit does not meet modern safety standards, you will almost certainly be advised to have these upgraded.
A survey that shows problems other than subsidence (a more costly issue to remedy) or a seriously bowed structural wall is nothing to be alarmed by provided that you keep a level head and are prepared to wait while remedial action is taken after you purchase the property. You should of course factor in the cost of repairs and treatments needed when you consider whether or not the property is fairly priced.
In many cases, properties in a poor state of repair or with outdated fixtures and fittings will be sold at such a discount to reflect their condition that they are in fact a good deal, and can be done up for less cost than the difference between their purchase price and their value once the works are completed. This makes them popular choices for investors, especially those with D.I.Y. construction skills. They may also be a good choice for people who need a good amount of space on a limited budget and are not fussy about having the most modern fittings in their home, and those who have their own particular design preferences and want to do up their homes according to these.
Whether that route makes more sense to you than paying a price premium for a fully modernised property with few or no issues to address may depend on your budget as well as your patience with arranging for contractors to do the work. If you are always busy with work and will not have the time to organise renovations, or if you have others living with you who would find ongoing works difficult to cope with or tolerate while they are ongoing, then a ready-modernised or new-build property could be a more sensible bet despite the extra cost, provided that you can afford it.
Don't forget that Battrick Clark Solicitors offer a fixed-fee property conveyancing service.
ii. What is the specification of the rooms?
A well-maintained older property may have no serious structural issues, but might be found to have dated kitchen and bathroom fittings and old-fashioned carpets on the floors.
Discerning 21st century residents of the UK have become much less accepting of the kinds of carpeted floor fittings and 1950s to 1970s-era kitchen units and bathroom fittings than we were as a nation as recently as the 1990s. Even fittings from the 1980s are now commonly being stripped out and replaced with luxurious new styles.
You will tend to find that a substantial portion of the UK's housing stock has had ultra-modern kitchen and bathroom fittings added in the past 20 years, and hard flooring put down in place of carpets throughout. These will tend to attract a price premium compared with houses that have not. Whether or not this is worth paying for at the point of purchase of the house will depend a lot on your aesthetic tastes, budget, and lifestyle. If you have different tastes or would happily settle for older fittings, then this modern luxury is probably not worth paying extra for, and you would get better value from an unmodernised property.
Even if you do prefer modern fittings, you may find it preferable to pay less for a property without them, and then treat it as a blank slate on which to impose your own design wants. The result will be a property that is tailored to your tastes at a price that is no greater than it would have cost you to buy one tailored to those of your predecessors or a developer who worked on a house before selling it on to you.
iii. How much space is there in this house or flat?
How much space do you really need, and what is your preferred room layout?
These are not unimportant questions when it comes to the practicalities of your home living, and only you can answer them, since the answers are as individual as the possibilities are numerous.
If you live alone, have no children or dependent elderly relatives to look after, and have no plans to settle down with anyone new, then a relatively small but easy-to-maintain living space may be adequate.
If, however, you are also a collector of books, toys or antiques, an inveterate hoarder, a musician, a home theatre or hi-fi enthusiast, a model railway builder, a carpenter, an artist, a potter, a craftsperson, or another kind of serious hobbyist who needs a lot of floor space for those reasons, then even if you do live alone your needs for space will be proportionately greater. Whatever hobbies you may have, you should try to allow space for them unless you are happy pursuing them exclusively in venues outside your home.
If you have a partner or spouse, or hope to live with one in the future, then your needs for space may be substantially greater, in order to accommodate your joint belongings and interests.
You should also allow space for any children or relatives likely to stay with you. A second or third bedroom can come in handy for these eventualities, and if you do have children, you will probably find that as they grow, they will really appreciate their own separate room with a decent amount of space, so they can entertain their friends there, do their homework, read, and play.
The average size of an owner-occupied dwelling in the UK today is about 108 square metres. Depending on the size of your household in terms of numbers of members of your family who will be living with you, and depending on how demanding your needs for living and storage space may be, this average may be enough for you, more than enough, or not really adequate.
Properties larger than 108 square metres will tend to be either very old terraced or end-terraced houses (often but not always those built on three or more storeys), or older semi-detached or detached houses. New-build executive homes built since the 1980s can also be significantly larger than this, but will tend to be much more expensive for the space than old ones.
Finally, you should consider the potential of the property for being extended since this may allow you to increase your living space in the future when you can afford to have an extension built, while starting with the house as it is today. Look up the permitted development rules and planning guidelines for extensions in the area where you are interested in buying. Many councils produce detailed documents with guidelines. Provided that your house is not a listed building or in a conservation area, and has not already been significantly extended, your chances are likely to be good for gaining permission for a one-storey rear extension so long as it is designed sympathetically to the look of other properties in the area.
Don't forget that Battrick Clark Solicitors offer a fixed-fee property conveyancing service.
iv. What is the layout of the rooms? How does the floor plan look?

For a given amount of floor space, there is any number of possible layouts and distributions, some more efficient than others.
One of the first places to look when perusing listings for houses in an area of interest to you is the floor plan. Most, but not all, estate agents routinely publish these. It will let you see at a quick glance how the rooms are laid out, and should also show their dimensions (sometimes these are only given on the full room-by-room description).
While some have a preference for open-plan living, others relish the opportunity to maintain separate downstairs reception rooms and kitchens that can be accessed from the main downstairs hall without the need to walk through one of the reception rooms.
If you are have a hi-fi system with loudspeakers that perform best in a large listening room, or have a large collection of books to accommodate, or a billiard table, then having at least one really spacious downstairs reception room that is not open-plan with the kitchen or family living area will probably be an important criterion for you. Depending on your budget, you may find that you will have to prioritise room size and layout over most other considerations in your choice of house.
Upstairs, some will be happy with a single family bathroom, while others will expect to see a master bedroom with its own separate en-suite bathroom (a common feature of new-build houses since the 1990s, and also a frequent adaptation of older large houses).
Many terraced and semi-detached properties have long, relatively broad downstairs halls with stairs rising straight up from them. This uses up a significant portion of the width of the ground floor, particularly in the area adjacent to both the stairs and the downstairs corridor that passes by it, where a second reception room is often found. Is this room wide enough for your needs? The width of the rooms adjacent to the main downstairs hall varies widely between properties and will significantly affect your level of living space, so pay attention to this detail. Three metres or less is relatively narrow; four metres or more is broad. The vast majority of terraced and semi-detached houses has downstairs reception rooms that lie somewhere between two-and-a-half and four metres in width.
Some semi-detached properties instead have entrances at the sides and stairs that turn around on themselves, making for more compact halls and more efficient use of the ground floor space, with the potential for larger or greater quantities of downstairs reception rooms. These are worth looking out for if you can't afford a huge detached property and downstairs living space is an important consideration.
It is also sometimes found that relatively narrow properties have been opened out through the removal of the walls between their downstairs halls and downstairs reception rooms. This results in the reception rooms sharing space with the staircase and hall. While this can create a more spacious feel, it also means that noise will travel far more readily between parts of your house, and there will be significantly less private space in which to focus on one activity or another.
Even broader properties are sometimes found to have had the walls between their halls and adjacent rooms knocked down, creating some very large open-plan areas, but with all the disadvantages that brings of through routes sharing space with rooms.
While some love the social side of an open-plan kitchen and living space, there are serious drawbacks to such an arrangement in terms of noise travelling from the kitchen to the living space and vice versa, as well as the risk of water vapour rising from the stove and kettle and affecting books and furnishings not designed to be exposed to it.
Conclusion
There are many factors to consider in the process of choosing your dream home. We hope that the suggestions in this guide have given you some helpful food for thought and guidelines, as well as some useful links to further information resources.
When you have decided on your home, don't forget that Battrick Clark Solicitors of Bristol offer a fixed-fee property conveyancing service, and we would be happy to receive your instruction on all property purchases and sales in the UK.
Return to Part 1: How to Choose Your Dream Home Location