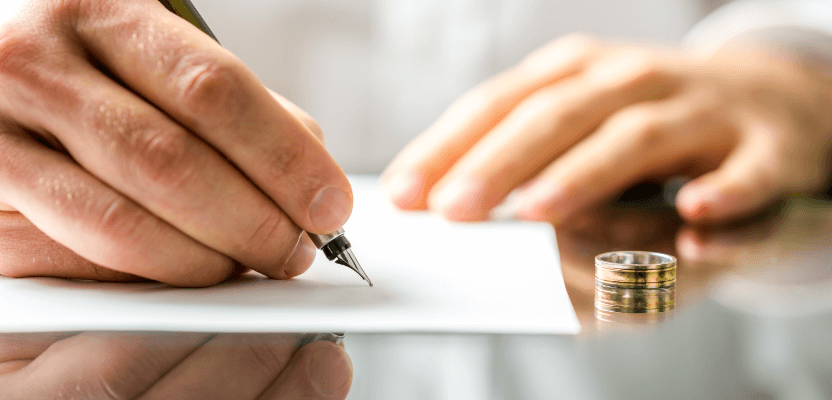 Battrick Clark Solicitors of Bristol are experienced divorce lawyers who can provide expert legal advice on all matters relating to divorce or legal separation.
In our experience, the two main challenges facing people who are embarking on a divorce or separation are emotional stress and financial concerns.
This is why at Battrick Clark we:
explain and guide you through each stage of the process
offer a broad range of services to help you and your ex-partner resolve financial issues
facilitate round-table meetings between spouses and their lawyers to try to achieve the best possible outcome.
We can't stop separation being a difficult process, but we will do everything we can to make it as straightforward as possible.
Grounds for Divorce
To obtain a decree of divorce or judicial separation, one or both spouses must be habitually resident in England or Wales and have been so for one year or more. The petitioner must prove to the court that the marriage has broken down irretrievably by proving one of the following facts:
Adultery
Unreasonable behaviour
Desertion
Two years' separation (with consent)
Five years' separation (without consent)
Evidence of adultery or unreasonable behaviour cannot be used if the spouses have continued to live together for more than six months after becoming aware of the adultery; and periods of separation must be continuous. Around 70% of divorce petitioners cite adultery or unreasonable behaviour.
The process of divorce and judicial separation has two stages – Decree Nisi (granted when the grounds of the petition have been established) and Decree Absolute (the final decree – normally made when finance and property issues have been resolved). If you change your mind, the process can be halted at any time before decree absolute.
People who cannot divorce because of religious or social reasons often use judicial separation. If you have a decree absolute in judicial separation proceedings, you are not free to re-marry.
If you don't want to divorce immediately, then you can sort out the finances by way of a Separation Deed. You both need to agree as to how the matrimonial assets are to be divided. The terms of your agreement will usually be incorporated into a final financial order of the court upon divorce.
We offer a broad range of services to help you and your ex-partner resolve financial issues. Whatever your financial circumstances, we help you to arrive at the best possible outcome. We can refer you and your ex-partner to mediation provided that you are both willing. We recommend full financial disclosure of both joint and solely held assets, and help you to negotiate a satisfactory settlement. We facilitate round-table meetings between spouses and their lawyers so as to avoid costly litigation through the courts. If all else fails, we will support and represent you through the court process. In our experience, most disputes settle long before a final hearing arrives, giving you and your ex-partner control over what is to happen to the family assets.
If you are worried that your ex-partner is disposing of assets, then we can protect those assets by obtaining freezing orders or restricting the dealings in property. Whatever the dilemma, we can offer a comprehensive legal remedy.

How does the divorce process work?
One of the first questions we are asked is usually about timings: how long does a divorce take? This of course depends on individual circumstances (for example, whether children are involved, or whether both parties support the divorce). A straightforward case can be completed within 4-6 months – and while we support the timely completion of proceedings, Battrick Clark always makes it a priority to strive for a lasting and sustainable solution.
The cost of privately funded cases, like the timescale, will depend on their complexity. Battrick Clark will provide you with a rough guide to the overall cost at the outset. And we can offer significantly discounted hourly rates if you are on a low income, and have little or no savings.
The situation regarding Legal Aid has changed since April 2013. The majority of people who would previously have qualified for support are now no longer eligible. You will now qualify if:
you can produce a letter from your GP / Consultant to show that you are experiencing psychological / emotional harm and / or domestic abuse
your ex-partner has been convicted of an assault against you within the last 24 months, or has been recently charged with such an offence
you can show that there is a risk to a child's safety and well-being.
Alongside these requirements, all Legal Aid applicants will still have to be financially eligible for the scheme.
If you would like to find out more about how Battrick Clark can help you with divorce and separation proceedings, please Contact us today.
You may also like to learn about our fixed-fee divorce service.
What happens to my will if I get married or divorced or remarry?
Click here to find out more about how changes in marital status affect your will

Family Law Testimonials
I couldn't ask for more.
I used Lynda Merrell-Jones for my divorce and she was absolutely amazing. Prompt, sensible, clear advice was provided for two years. I cannot recommend them enough!
When you need a solicitor, you want to know that you have one that you can trust. With Lynda Merrell-Jones I knew I had one of the best. She was honest, quick to respond, very knowledgeable and very sensible. I very rarely write reviews, but Lynda really does care, so I would highly recommend her.
Used Battrick Clark for both my partner's divorce and conveyancing when we recently moved – were great on both occasions.
Lynda Merrell-Jones has proven on numerous occasions that investing in professional legal advice is priceless. Some of the comments here reflect the frustrations of having to pay for legal advice and anyone of us can appreciate the pressures finding these funds place upon us. However, when you're protecting children, home or family it's an investment that provides peace of mind and validation that you're serious in your endeavours to protect these precious people. On behalf of myself and family, thank you.
Lynda Merrell-Jones was fantastic in how she handled my divorce case.
There was no question unanswered (and I had many) and she gave me realistic advice on what I could expect.
I couldn't recommend her more.