Personal Injury - Other Injuries
If you have suffered from an injury and the responsibility is fully or partly with someone else, we offer all the help and legal advice you will need if you want to seek compensation.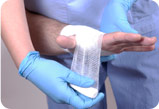 We can advise you what evidence is needed to make a claim

Injuries whilst abroad may be covered

We help you achieve the best financial outcome
---
Other Injuries
Accidents that have caused you physical and/or mental damage can occur anywhere. Provided that the responsibility lies wholly or partially with someone else there may be a case for compensation. Injuries caused whilst on holiday or away on business are cases we have dealt with successfully.
---
Questions and Answers
If I am involved in an accident and sustain an injury what should I do?
Make sure you make a note of all the facts such as the date, time and how/why it happened. Photographs, if appropriate, will help. If the Police are involved, details of the report and hospital/doctors reports are also important. Contact us as soon as possible if you wish to make a claim.
How much will my claim cost?
Your solicitors will review the evidence and, if proceeding, will complete the case without charge to yourself or any reduction in the amount you get awarded as damages.
How much compensation will I get?
This will depend on the severity of your injuries and the amount of money you will lose (wages/extra travelling costs/medical help etc) as a result of the accident. Any future disability, pain or distress will also be assessed. Your solicitor will be able to give you a broad outline of the level of compensation you may receive at the outset after having assessed the facts.
Please ring us at any time on 0117 973 1391 and make an appointment to see us.